Indigo Mobile Massage for Women offers in-home therapeutic and relaxation
massage for women. You select a comfortable, calming space in your home, and I do
the rest! I offer treatment work for long-standing aches and pains, as well as
holistic-focused, full body relaxation massage to restore balance to your body and
mind.
Chronic aches and pains seem to be part of our every day life, but they can improve!
Muscles can become chronically tense and adhered from poor posture, lack of
ergonomically-sound work stations, and stress, among many other things. During our
massage, I will discuss your daily routine with you and help increase your awareness
around how what we spend our days doing, or not doing, has a huge impact on how
our bodies feel.
Sometimes we just need a break from the hectic world-a chance to breathe,
become more centered and take care of ourselves! You can't serve from an empty
vessel-l invite you to take some time for yourself! You do so much for everyone
else… you deserve to be taken care of too!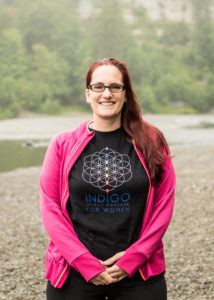 Hi! I'm Elise Hartenian – Owner of Indigo Mobile Massage for Women. I'm passionate about providing care to women. We give so much to others that sometimes we forget to take care of ourselves. I offer a variety of massage modalities including prenatal/postnatal massage, Clinical/treatment massage, chronic pain treatment, relaxation massage as well as cupping and GuaSha.
My undergraduate degree in Biology helps me in my goals as a licensed massage therapist – using a preventative and holistic approach when possible, and treating physical conditions after they have developed. I work to enhance client awareness of the connection between what they do in their day-to-day life and how their body feels.
Mobile Massage is a great solution for many women. Moms with new babies or families with young kids, those with mobility issues, or anyone who feels that their relaxation can be maximized in a comfortable, familiar setting. I come to you, so you don't need to do a thing—afterwards, just relax, take a nap or a bath, and hold on to a calmer you.