Relieve your stress with a massage.
Indigo Mobile Massage specializes in Women's massage – providing therapeutic, prenatal, or relaxation in the comfort of your home!
Recommended by 20+ people on our Facebook page!!
Chronic aches and pains seem to be part of our every day life, but they can improve!
Muscles can become chronically tense and adhered from poor posture, lack of
ergonomically-sound work stations, and stress, among many other things. During our
massage, I will discuss your daily routine with you and help increase your awareness
around how what we spend our days doing, or not doing, has a huge impact on how
our bodies feel.
Most frequent questions and answers
Please select a quiet and relaxing place in your home. It can be anywhere that you will be comfortable – living room, office, bedroom, etc. This space should be at least 6ft by 10ft.
That is completely up to you and your comfort level. The goal is to have access to the areas of the body needing work. This could include everything from being fully clothed down to your underwear. Breasts and genitals are always covered.   
I arrive about 10 mins before our scheduled appointment time to set up and discuss any specific areas you would like to address in that day's massage. I always plan some extra time for our first appointment to get acquainted and answer any questions you have.
Please be ready for the massage by minimizing distractions like pets and kids. I love both, but want you to be relaxed and distraction-free during our session. Your appointment time has been reserved for you. Please plan ahead and take care of any business, phone calls, etc. before or after our appointment, so that our session can begin and end on time.
I have several types that I prefer – all are hypoallergenic, non-com·e·do·gen·ic, paraben-free, etc. I have sensitive skin as well and am very selective about the lotions and creams that I use. If you have an allergy, or a preferred oil or lotion, be sure to tell me ahead of time so we can plan accordingly.
I accept cash, checks, and CC payments. I also accept PIP claims (Motor Vehicle Injuries) with a referral and L&I claims (work-place injuries). Unfortunately, at this time, I don't accept insurance plans.
Marysville, Washington
Lake Stevens, Washington
Everett, Washington
Snohomish, Washington
Arlington, Washington
Not seeing your city? Give a call to book an appointment. 
Monday – Friday, 10am – 4pm
Evenings and Weekends available by appointment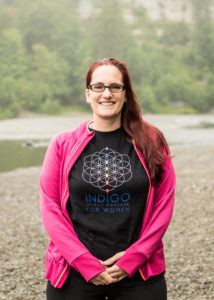 Hi! I'm Elise Hartenian – Owner of Indigo Mobile Massage for Women. I'm passionate about providing care to women. We give so much to others that sometimes we forget to take care of ourselves. I offer a variety of massage modalities including prenatal/postnatal massage, clinical/treatment massage, chronic pain treatment, relaxation massage as well as cupping and GuaSha.
My degree in biology helps me in my goals as a licensed massage therapist – using a preventative and holistic approach when possible, and treating physical conditions after they have developed. I work to enhance client awareness of the connection between what they do in their day-to-day life and how their body feels.
Mobile Massage is a great solution for many women – moms with new babies or families with young kids, those with mobility issues, or anyone who feels that their relaxation can be maximized in a comfortable, familiar setting. I come to you, so you don't need to do a thing—afterwards, just relax, take a nap or a bath, and hold on to a calmer you.